Q: Can I set the page thickness for the 3D page flip book?
Have you found that your 3D
page flip
book is thin and feel like nothing? Have you thought it too thin to have 3D effect? That is the problem in your
page flip
book's page thickness. It is no doubt that you can set the thickness to your 3D
page turning
book when you convert your
PDF to flash
book. I believe the book will look more solid and book-like after you set a suitable book page thickness
Now follow the steps below and it would give you navigation to help you make your flash flip book more realistic.
Step1: start up your 3D PageFlip software, and turn to the second column 'setting' in the navigation bar. Then you can find the page thickness setting button in the 'Scale And Page Thickness'.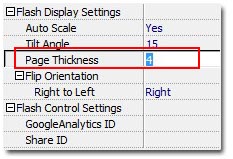 Step2: Fill in the space with the number. The bigger the number is, the thicker the page flip book will be. Remember to click 'Apply' after your settings.