Do you enjoy listening to music when you are doing some reading? The feeling is just like suitable music occurred when scene change in the movie. For example, Terrorist voice come out with the ghost occurred, joyful music play with the happy mood of the host. So, this is the same with your 3d
page flip
book. You can allocate different style of music to the page of the flip book. When the page describes the happy story, you can insert a light music, if the flip page show people sad story, you can give it sad background music to render atmosphere. What's more, you can control the music, make it play when somebody enter the page and make it stop when he goes out of the page.
OK, let start to learn how to set different background song for each page of 3D flip book. Make sure you have installed
Enter Flip Page editor from 'Page Edit' button in the navigation bar. Then let's begin from the first page. Find out the 'Add sound' in the floating tool bar. Click it to draw a music player on the flip book page. Then select a music file by double-click the music player or through the 'sound path' in 'Properties of sound'.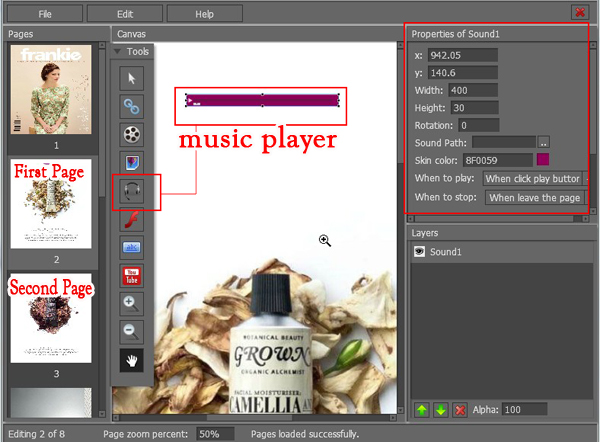 You can design the Width of the music player from 'Properties of sound>width'. Of course you can change the color of the music player from 'Properties of sound>skin color'. Have you seen the action option in the 'Properties of sound'? It would help you control when and how to play background music.
After knowing about all the settings, you can move to the second flip page and add music for it. And then the third page… Finally, you will get a vivid 3d
page flip
book with rich and colorful flip book content.