An own
flash page flip
eBook with unique style will be attractive to others. That means a tool can assistant more and more people to make digital book without others' help will be welcome in today's personality world. New version of PDF to Flash Page Flip will help to solve this problem. It adds six free online templates for users and each template has its own style and features. It means users can use this tool to create more than ten styles of
flash flip
book with its four old templates and six new templates! Here will introduce this six new templates for you!

Lucid: It's concise template with different functional buttons in the tool bar. People can easily share the flipbook link to others via Facebook or Twitter in this template, or print out any page of the eBook for any use. Besides, you can customize background of your flipbook with any image, no matter ads or coupon info. You can even insert Logo into the lower left corner of the book to make flipping publications.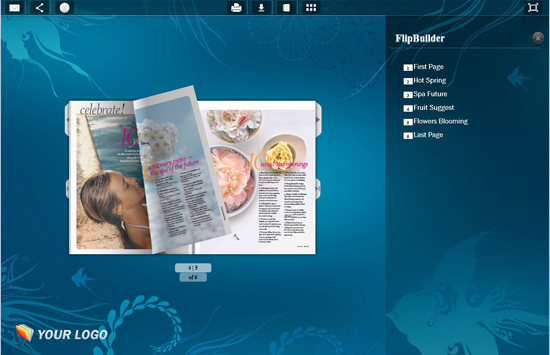 Facile: This is simple and fashionable template for creating modern flipbook. You can build flipbooks with various navigation modes, full tips in Help window, customized bookmark and toolbar button color, branded company Logo and images inserted in title or background. Easy for readers to learn your flipbook and get help and company info directly.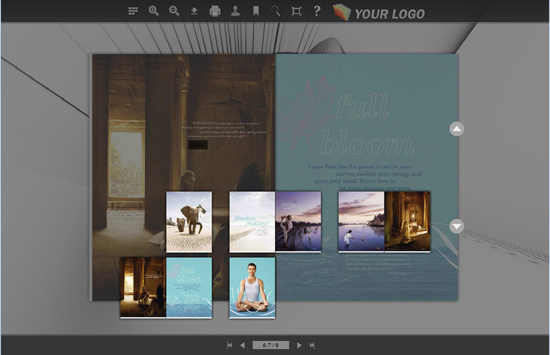 Clear: This Template is multi-language and functional for readers to view the flipbook clearly. It's suitable for multiple languages readers since they can switch other languages directly. Flexible navigation mode of "Thumbnail" and "Bookmark" provided for people to speed-read all pages and you can also enable "Search" features to find the concerned content in
flash page flip
book.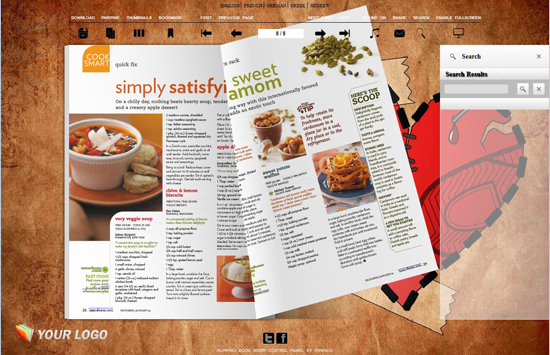 Labeled: This clear style template shows eBook tabs on the top, and list company, author or advertise info on the left side. You can easy insert your logo, book and contact info. And most importantly, readers can click on the tabs on the top of your flipbook to go to each part easily and quickly. It also supports sound play, copyright text content show and social share features.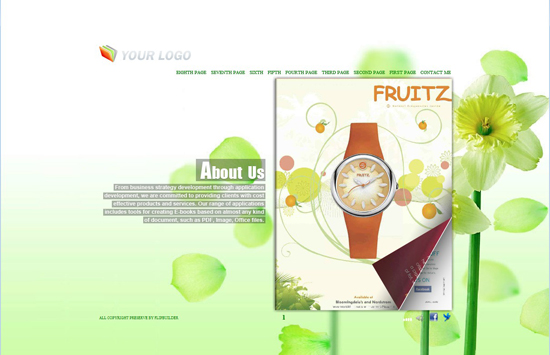 Flexible: It is really flexible for all book readers. People can zoom in the book pages flexibly, transfer the book between single page and double pages mode flexibly, distribute the book with others through Social websites flexibly, and go to pages flexibly with the help of animated thumbnails, navigation buttons and bookmark list.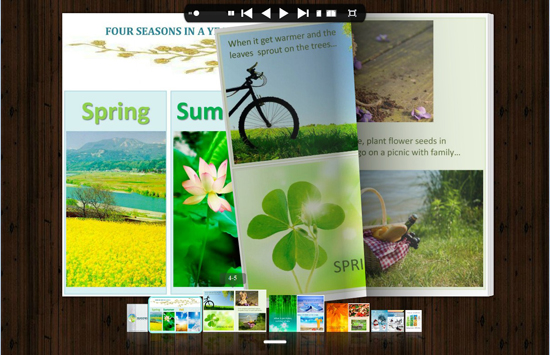 Handy: Handy Template offers simple interface style, useful and handy tools to control the books. All functional tools can be show or hide flexibly in this Handy Template, including the Top toolbar, Logo, Thumbnail, Share and Sound. The intuitive "Help" window will be useful to show all icon features when read the
flash page
book for the first time specially.