Q: Can I set the position for the background picture in the 3D PageFlip software?
When you want to import a picture and set it as the background for the
page flip
book, you may find some pictures from the internet or other place. However, not all size of the pictures you found fits the size of the 3d page flip book background. Absolutely there are ways to solve these problems. You can set the pictures position to make it suitable to the screen of the
page turning
book, even make it suitable when it
flip for mac
.

The steps will be introduced as below.

Step1: Start up the 3d page flip software and click 'Page Layout' in the navigation bar.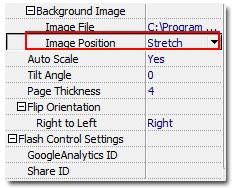 Step2: Move to the fourth column 'Background Conflig' and import the picture. Then click 'Position' and select the right effect. You can check 'Apply Change' to see every effect of the position setting.